History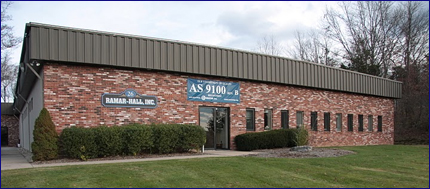 Ramar-Hall Inc., established in 1956, is a precision machining and assembly facility located in Middlefield, CT. Our expertise is providing products and services to both the military and commercial aerospace industry.
This includes components for electronic engine control, flight systems, large and small gas turbine engines, and rotary aircraft hardware. We are truly a global company, with world-class customers such as Hamilton Sundstrand, Pratt & Whitney Aircraft, Sikorsky Aircraft, Helicopter Support, Techspace Aero, and Volvo Aero.
The foundation of Ramar-Hall, Inc. is built on our commitment to customer satisfaction and we have the knowledgeable manufacturing support to deliver that promise. Our state-of-the-art facility includes CNC horizontal and vertical high speed machining centers and the assembly of complex aerospace components.
The engineering staff has capabilities in rapid prototyping, quick turn machining, SurfCam, Unigraphics CAD/CAM, Auto CAD and lean manufacturing.
Our quality control system is designed specifically for the aerospace industry.
We also communicate globally to all our customers utilizing e-business solutions. It is this comprehensive business approach, which makes Ramar-Hall, Inc. the best choice in aerospace requirements.
1956

Mr. Raymond C. Byrne founded a tool and die business named Ramar Tool Company of Middletown, CT. The company name, Ramar, was created in honor of Ray's two children, a son Raymond Jr. and a daughter Margaret hence the name Ramar.
1966

Mr. Byrne brought a partner into the company, Mr. Allan Hall, and the company name was changed to Ramar-Hall Inc.
1968

Mr. Dave Peters replaced Allan Hall as a partner and Dave and Ray operated the company for many years.
1978

Ramar-Hall purchased its first CNC milling and turning machines. The company then transformed from a tool and die manufacturer to a production machining source for the aerospace industry. Mr. Peters became sole owner of the company.
1980

Ramar-Hall moved to a brand new 10,000 square foot facility at its current location in Middlefiled, CT, and Mr. Don King became minority partner for the company
1987

Ramar-Hall began machining and assembling Electronic Engine Controls for the aerospace industry and produced 100 percent of its product for the aerospace industry.
1998

Mr. Don King became the majority owner. Also, Mr. Dave Ferraguto and Mr. Tom Varricchio became minority partners.
2005

Ramar-Hall refurbished the office and added 6,000 square feet of manufacturing.
2012

Dave Ferraguto acquired majority ownership of Ramar-Hall in February 2012
2017

Ramar-Hall completes new addition on its facility. Click here to see a PowerPoint slideshow of the progress.
Over the last30 years

Ramar-Hall Inc. has been recognized by many of its customers as a leader in the aerospace machining industry.